Galiceño Horses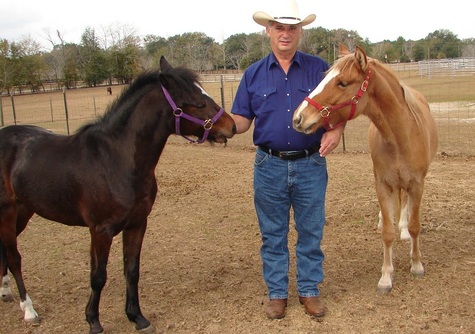 The Galiceños (pronounced "gal-eh-seen-yo") are small horses, 12 to 13.2 hands high (48 to 54 inches), extraordinarily strong, agile, and possess tremendous stamina. These horses are narrow in the chest and have a short back (like Arabians). They are nicely proportioned with fine features, small alert ears, and a narrow but straight or convex snout. Their color includes black, bay, browns, sorrel (chestnut), buckskin, palomino, gray and roans. There are no Appaloosa or Paints in the breed. They are very intelligent, quick to learn and eager to please. Most are gaited with an extended running walk. Their movement is generally smooth. They have an excellent disposition, friendly and curious.

Although Galiceños are of pure Iberian heritage, they are a "landrace" distinguished from other Colonial Spanish Horse breeds and strains by their small size and gait.

For more information on the general characteristics of a Colonial Spanish Horse, go to the page on that topic.


Where did the Galiceños come from? Preliminary results of genetic tests done by Dr. E. Gus Cothran at Texas A&M University on our Galiceños show them to be closest to the Garrano horses of Portugal, a primitive horse of the Iberian Peninsula. When Columbus returned to the "New World" on his second voyage, he brought small horses and established breeding herds on Hispaniola and Cuba. All subsequent voyages from Spain brought more Iberian horses to the Islands. Hernan Cortes followed in the early 1500's also bringing horses to Hispaniola from the Iberian Peninsula. In 1519 when he invaded the mainland of Mexico establishing a stronghold near Veracruz, he brought along some of these horses which significantly impressed the natives and resulted in them believing the Spaniards were "gods" thereby making it easier for the Spaniards to conquer the native peoples. Reinforcements brought more horses to the mainland for the Spaniards who were taking over Mexico. Later, even more horses were brought to the mainland with the settlers, colonists and missionaries as they settled Mexico. There, some of those horses bred, and through natural selection rather than the artificial selection of humans, resulted in the horses we now call "Galiceños." They are considered a distinct "landrace" descended from the earliest "Colonial Spanish Horses" in the Americas and are very pure Spanish horses in the sense that there has been little if any genetic exchange with other breeds because of their isolation. Many of these horses were brought into the United States from 1958 through the mid '60's to establish the US registry of the Galiceño Horse Breed.
Since late 2012, the Galiceño Horse Breeder's Association is under the direction of Bob and Glinda Tackett, P.O. Box 343, Jacksboro, Texas 76458

Although thousands were brought into the United States in the 1950's and '60's, Galiceño horses are now a very rare breed. Galiceño Horses are now considered Critically Endangered by the Livestock Conservancy. There are probably fewer than 200 pure Galiceños left, most of them not in breeding situations.

In 1958, Harvey Mecom of Liberty, Texas, came across some of these horses in the Yucatan and imported a large number for their ranch. Also in 1958, Glenn Bracken of Tyler, Texas, and Charles Dolan of Eagle Pass, Texas, began to import these horses into Texas and in 1959, they established the Galiceño Horse Breeders Association headquartered initially in Tyler, Texas, but soon moved to Godley, Texas under Bill Giles. These horses quickly attracted attention in Texas, and soon horses were being shipped throughout many areas of the United States. The King's Ranch in Texas acquired many Galiceños to outcross to Quarter horses to improve their cutting horses. Jack Bell of Lakeview Stables in Orlando, Florida bred many Galiceños up until the mid 1970's. Keith and Bob Stone at Golden Rod Farms, Chariton, Iowa, bought 400-450 mares, but most of them were outcrossed into what is now POA's (Pony of the Americas).

In 1960, Kate and Walt Johnson of Spokane, Washington, purchased horses from Charles Dolan at the Eagle Pass facility and had them delivered to his place in Spokane, Washington. By 1964, Walt Johnson had formed a Galiceño Club in Spokane and had Galiceño horses in various shows and events throughout the area. Among the Spokane Galiceño Club members was John LeBret who was active in training Galiceño horses. He provided horses for the Junior members of the Club and 4H members, and introduced the Galiceño horses to the Spokane Indian tribe of which John LeBret was a member. Galiceño Horses can also be registered with the American Indian Horse Registry.

Galiceño horses from Spokane ended up in all neighboring states and Canada. Diane Fitzgerald of British Columbia owned the stallion, Flame of Lochinvar, sire to a colt named ND's Windfire. Windfire's Dam (Flying 'S' Chitsa) was a descendent of El Capitan, a Palomino and an original import from Mexico, owned by Walt Johnson. ND's Windfire was imported from Canada by Babs Fisher and her son, William Fisher, of Colbert, Washington. Susan Roller of Spokane, Washington acquired ND's Windfire and eventually partnered with Steve Hardcastle of Godley, Texas where ND's Windfire ultimately found home. In 2004, one of John LeBret's daughters, Marie Moore living in Sand Point, Idaho, purchased from Susan Roller and Steve Hardcastle a Galiceño mare, Lucy, who was in foal by Windfire. Lucy gave birth to a buckskin filly named Easy. In 2006, Marie Moore gave Lucy and Easy to her daughter, Heidi Reinhardt. Windfire sired the two horses pictured above, Diamonte Blanco (Monty) and Diosa de Oro (Dee Dee) as well as Little Bit of Texas (Bitsy) and Fresa Rubia (Ruby), the last of ND's Windfire foals.


Galiceños of Suwannee Ranch is near Live Oak, Florida and is home to the remarkable Galiceño Horse, the small horse with a big heart!. We are a Not For Profit 501 (c) (3) corporation dedicated to the preservation and promotion of this breed, and to provide educational opportunities on the history of horses in the Americas, and the role horses played in the conquest of the "New World."

Galiceño Horses are now considered Critically Endangered by the Livestock Conservancy. They are a "Heritage Breed." We currently have 36 Galiceño Horses including 2 geldings, 6 stallions, 2 colts, and 26 mares and fillies.


Our mailing address: 11000 89th Road, Live Oak, Florida 32060

Galiceño horses are a very rare breed descended from these original Colonial Spanish horses brought to the Islands of Cuba and Hispaniola and then to the North American continent along the shores near Veracruz, Mexico beginning in 1519. Over the next few years, many horses were brought to Mexico from Hispaniola and Cuba. In southern Mexico, the horses had remained in relative isolation, bred and developed under natural conditions into the Galiceño horses that exist today.

Richard M. Blaney, Pat K. Blaney and Heidi Reinhardt brought Lucy and Easy to Live Oak, Florida, and then purchased a yearling colt, Diamonte Blanco, and a filly, Diosa de Oro, from Steve Hardcastle in Godley, Texas, to establish the Galicenos of Suwannee Ranch. Heidi Reinhardt is one of the founders and partner in the ranch, and she is the granddaughter of John LeBret, so family heritage is also a factor in our dedication to the breed.

The people of the Galicenos of Suwannee Ranch are Dr. Richard M. Blaney, Pat K. Blaney, and Heidi M. Reinhardt.

Richard M. Blaney (Rick) is a retired college Professor of Biological Sciences with a Bachelor's degree from Florida State University (1965) in Biological Sciences and a Doctorate from Louisiana State University (1970) in Zoology. He taught courses in Biology, Zoology, and Anatomy and Physiology before retiring in 2006.

Pat K. Blaney is a retired college professor of Biological Sciences with a Bachelor's degree from the University of Connecticut (1970) in Biological Sciences and a Master's Degree from Louisiana State University (1976) in Zoology. She taught courses in Biology, Zoology, Botany, Microbiology, and Anatomy and Physiology.

Heidi M. Reinhardt is an Environmental Scientist, Biologist, and Educator with a Bachelor's degree from Florida State University (2009). She is currently teaching High School science classes.


May Dodge Cahill has joined us at the ranch to share in the fun and work.

Friends of the Galicenos of Suwannee Ranch that frequently help us out include Jodi Schwab, Chloe Schwab, Anna Schwab, Jeanie Hamlett Specht, and Audrey Marie Brown, Our farrier, Jack Andrews of Live Oak has been extraordinary in his help with hoof care and trimming. Kay and Steve Hardcastle, our good friends in Godley, Texas, have been extremely helpful and supportive of our efforts.


---
Heidi rides Dee Dee and many of the Galicenos follow along.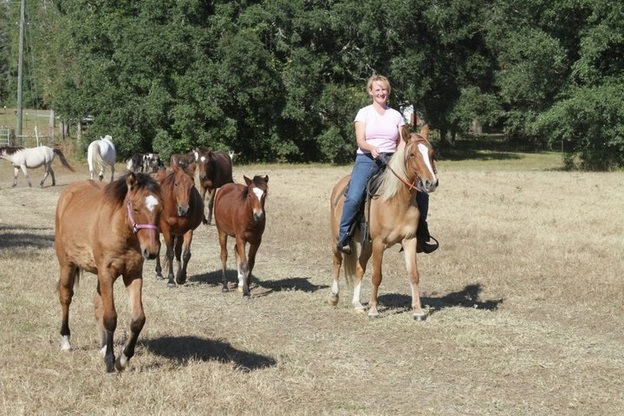 Heidi is riding Diosa de Oro (Dee Dee) while many of the other Galiceno horses follow along. Galicenos have natural cow sense and respond quickly. Their endurance is amazing.
Dee Dee gave birth to her first foal on February 14, 2010, Valentine's Day. Accordingly, we named her beautiful Dun filly "Suwannee Love." Love is at the left front in this picture.
A video of Love's birth can be viewed at
http://www.youtube.com/watch?v=eYlosfbAumQ&feature=mfu_in_order&list=UL
---
Dee Dee in English show class.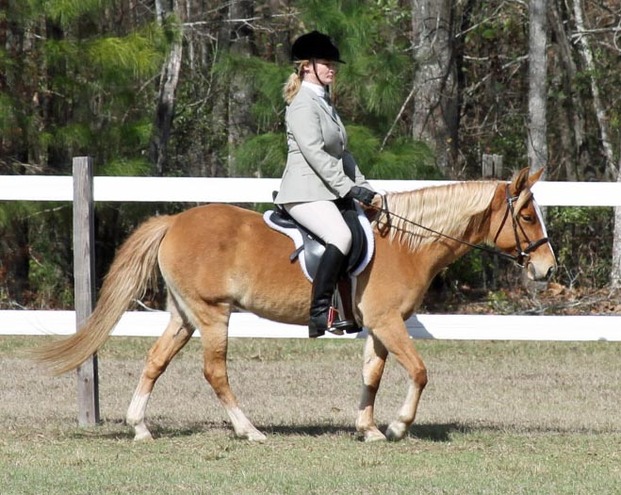 Galiceños are equally comfortable in Western saddle or English tack. Dee Dee is showing here in English and competes well with the large horses. The Galiceños are athletic and would be great prospects for Hunter/Jumper. Because of their size, in the right hands, they would compete in the Pony Class and would easily out perform most ponies.

---
Dee Dee looks bored, but she is a winner!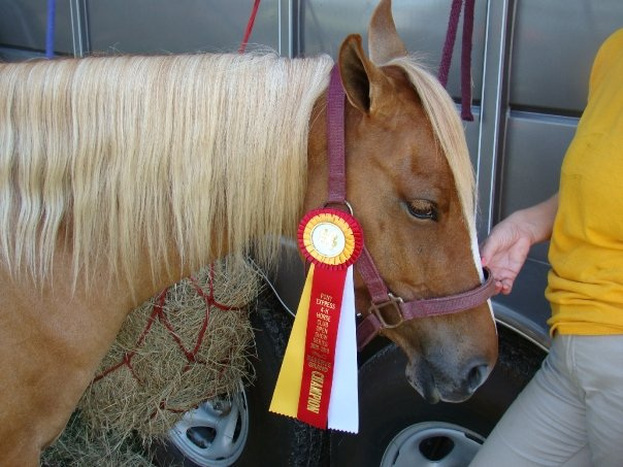 Dee Dee is a winner! This was at one of the local horse shows in Live Oak, Florida, and the first time Dee Dee was out in public. We go to different shows and take different horses each time. We go to the shows not to collect ribbons but rather so people can see representatives of the Galiceno horse breed and to give our horses the experience of travel and being around new and different places, people, and other horses. If they have developed the trust in us, they usually behave quite well.



---
Diosa de Oro (Dee Dee) takes Heidi Bemis and her mother, Marie Moore for a ride.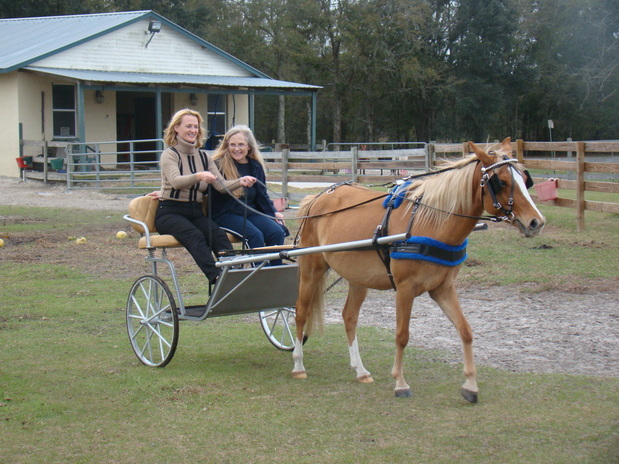 It did not take long for Dee Dee to learn to pull a cart. Just a little ground work, hitch her up, and away she went! She thoroughly enjoys pulling that cart! Heidi Reinhardt is driving while her mother, Marie Moore, daughter of John LeBret, enjoys the ride,
A video link below shows Dee Dee pulling her cart for the very first time, even as many of our other horses run around excited to see this new contraption in the pasture!
http://www.youtube.com/watch?v=N8OfN1kuARg
---
NiNa and Heidi in English Class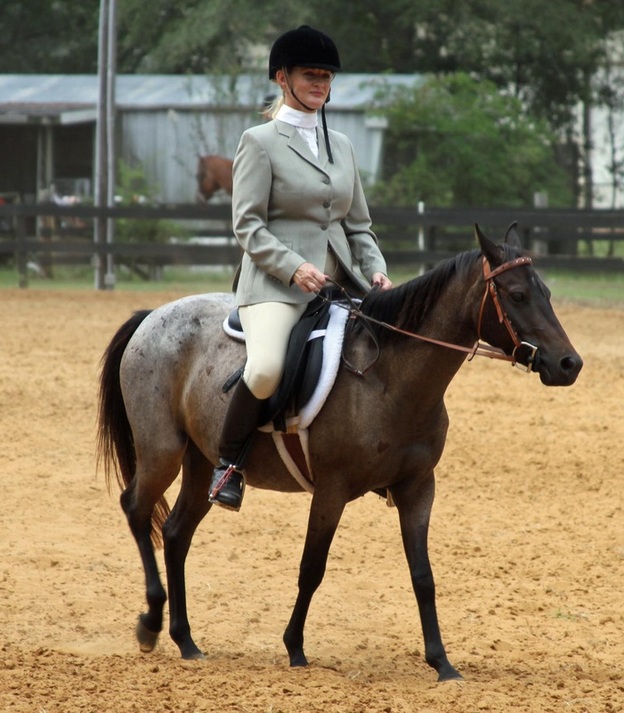 Another of our Galiceño mares, NiNa, is equally comfortable in English tack or Western. She loves to please and will do her best to please.

NiNa participated in a Competition Obstacle Course with Western Tack in 2010. Despite being her first time off the ranch, she performed beautifully and did everything she was asked to do.

---
Dee Dee jumping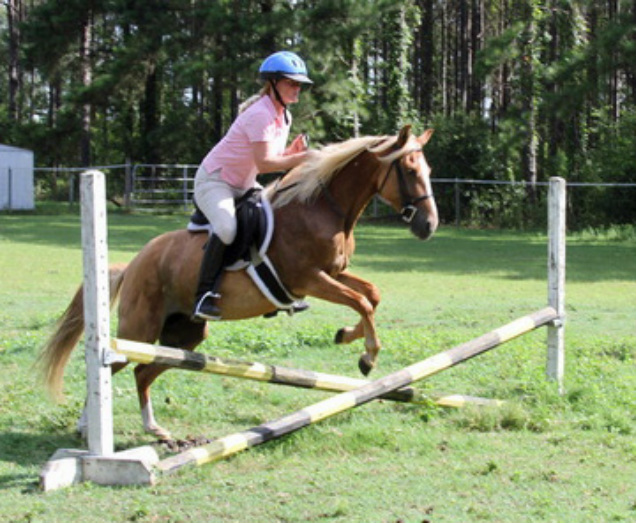 Diosa de Oro (Dee Dee) has also learned to jump. This is actually from Dee Dee's and Heidi's FIRST lesson in doing jumps and they both did very well. The Galiceños, being 12 to 13.2hh, would make fantastic Hunter/Jumper competitors in the Pony classes.

---
Bijou and Easy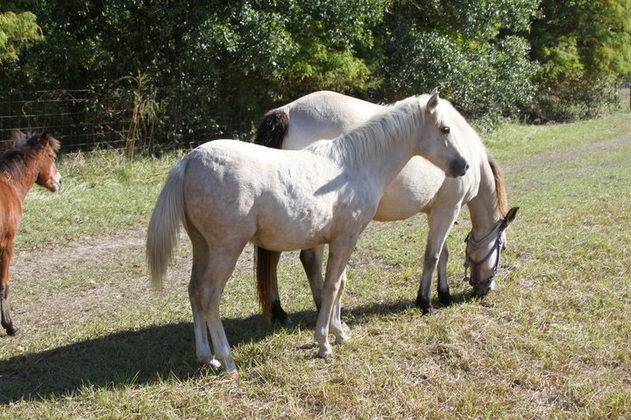 This is Bijou, a filly born May 3, 2010 to a buckskin mare, Easy, and sired by Monty, our dark Bay Stallion. Monty's picture is on the top of the home page on the far right being ridden by Heidi Reinhardt. [ Yes, we ride our stallion! ]
The color genetics can be quite complicated because there are so many modifer genes.
Easy's Dam is Lucy, a Bay, and her sire is Windfire from the Hardcastle Ranch in Godley Texas, a dark buckskin.
Check our page on horse color genetics for more information.
---
A couple of 2010 foals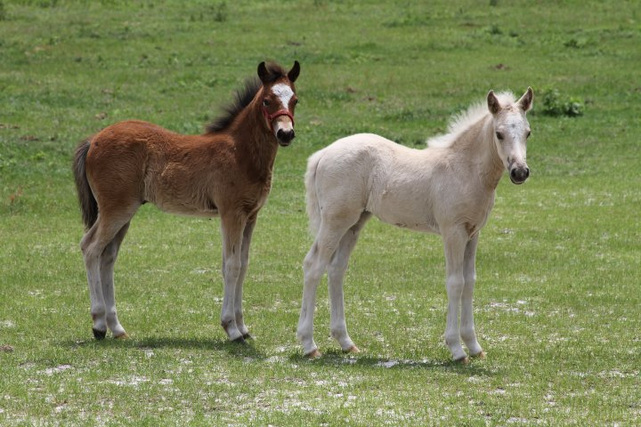 Bijou, a filly, on the right and Suwannee Storm, a colt, on the left, are two of our five Galiceno foals for 2010. At this age, they are standing at about 10 hands high.
One of the wonderful sights we have is to watch all of the foals run and play together. We can see their individual unique gaits and abilities. Bijou, for example, much to our surprise, could clear a four foot fence when she was only 4 months old. Storm is fast and turns quickly. With the freedom to run around the entire 52 acres of our property, their muscle tone and bone strength become well developed.
---
Galiceños at play- Totasa and NeMo take a bath.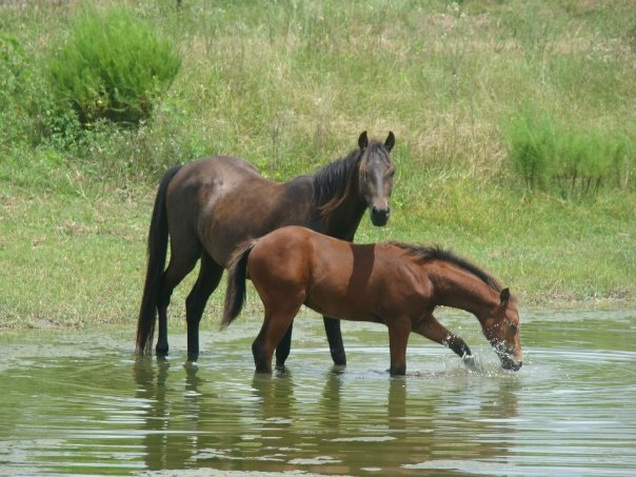 ---
Training session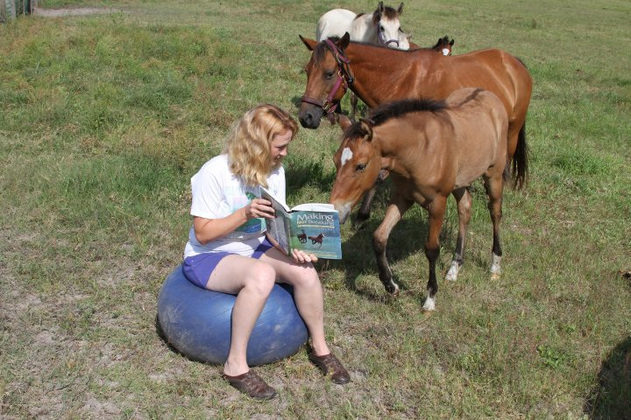 Perhaps our training methods are unusual, but they seem to work! We spend a lot of time in the pasture with the horses and they come over to be with us. This really develops a bond with us and promotes trust. We exercise them in the round pen and get them to respond to voice commands. By the time we put a saddle on them, they are not afraid and do what we ask. Still, there are times that some book learning is needed. Heidi is teaching Suwannee Love about "Making Not Breaking" written by Cherry Hill.
We also dislike the term "breaking" a horse. Ours are not broken, so we do not have to fix them. They do what we ask because they want to. As Xenophon said in 400 BC, "Horses should be trained in such a way that they not only love their riders, but look forward to the time they are with them."
---
Our Galiceño Stallions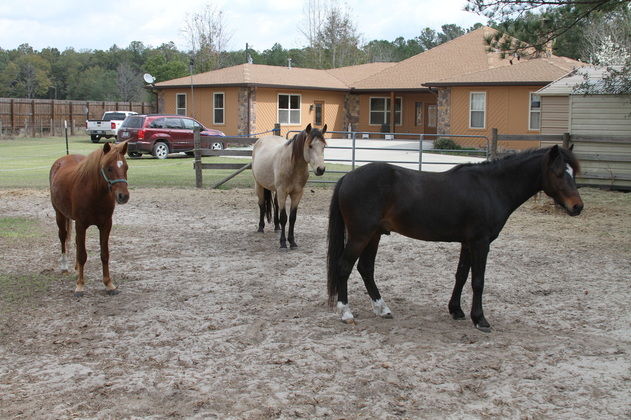 These are three of our stallions. From left to right, Rain, Maverick, and Monty. Our home is in the background.
Monty is head stallion and sire to many of our foals. Foal colors include black bay, bay, sorrel, and Palomino. All have the pronounced star.
Rain has sired one foal with NiNa, a colt named Oaxaca. Rain is a Red Roan. NiNa is Purple Roan and the Oaxaca (below) is like NiNa.
Maverick has sired several foals including a buckskin filly.
All three stallions get along great. There has never been a problem with these gentle horses. Maverick and Rain play together all the time. They will run full gallop the length of the pasture, weaving in and out. Maverick will come to a sudden stop and Rain will run into him, then go under Mavericks neck and push up. They thoroughly enjoy their play.
---
Five of our Galiceño Stallions



The stallions have a great time running from one end of the property to the other. Seldom do we get a chance to photograph all five walking together. From left to right, Dusty, Rain, Oaxaca, Maverick and Monty.
---
Galiceño horses on the chow line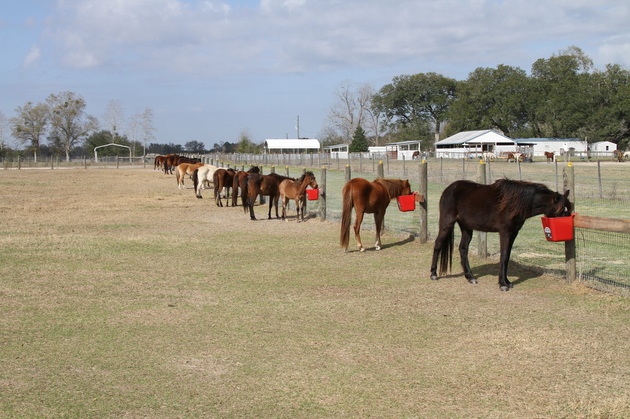 This is feeding time for the mares, their foals, the yearlings, two year olds, geldings, or in other words, everyone but the stallions. That is a line up of 16 Galicenos. There is a little bit of trading feed bins at first, usually just to show who is boss, but within minutes, everybody settles in on a bin. There is no physical hostility.

A lot can be said for the temperament and behavior of the breed at a time like this!
---
Our Stallion, Monty, at an outing to Camp Weed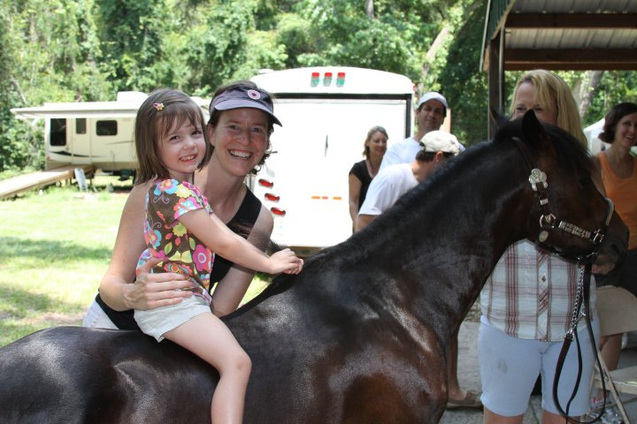 We often volunteer to take one of our Galicenos to various events. In this case, it was a retreat at Camp Weed and the Cerveny Conference Center, Live Oak, Florida.
Monty loves the attention and the opportunity to meet people. He is very tolerant and gentle. When a child is around, he stands perfectly still unless we lead him on a walk.
People are rather amazed when they learn that Monty is a stallion! In fact, on this day, we lead Monty from his pasture with his mares and foals and trailered him to Camp Weed.
---
Rick Blaney and Joe Chamberlain at Camp Weed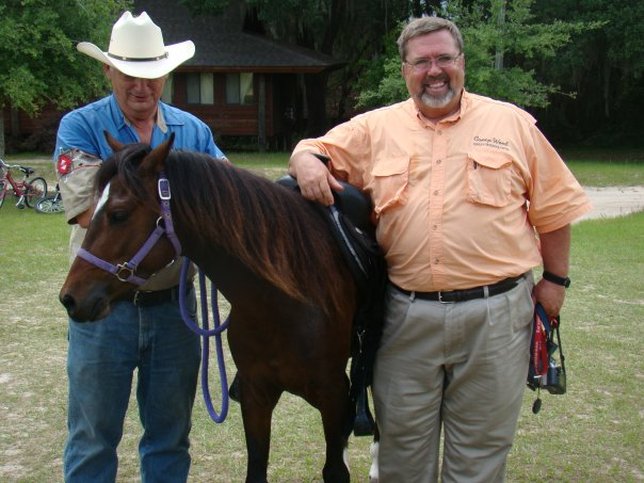 Joe Chamberlain is Executive Director at Camp Weed. He is a Biologist like us, and developed an interest in the history of the Camp Weed Property when numerous Native American artifacts were found on the property indicating that a major Native American village had existed on this site. Further investigation found that Hernando de Soto came to this site in 1539 just before he set up a winter camp at Apalachee near Tallahassee. Joe provides visitors with a talk on the history mentioning the importance horses played in de Soto's conquests. The horses de Soto had came from the same stock as the horses Cortes brought to Mexico in 1519. We take one of our Galicenos to these talks to introduce the visitors to the original Spanish Colonial Horse. They are intrigued by their small size, their stamina and ease of care.
---
Monty brings history alive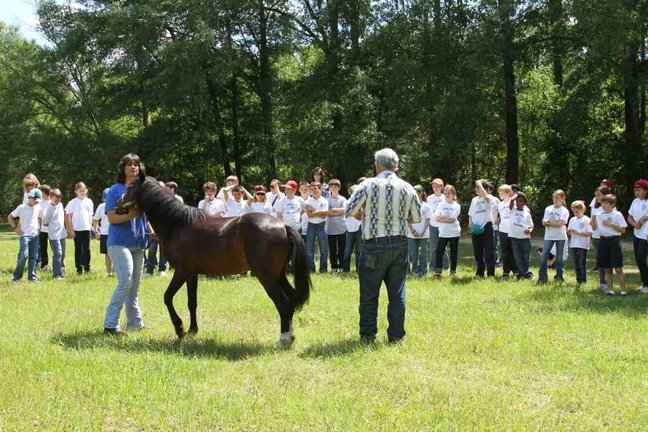 Monty is representing the size and type of horses the Conquistadors had. Talks are about "The History of the Horse in the Americas," "The History of Hernan Cortes and the Conquest of Mexico," or "The Explorations of Hernando De Soto."
---
Kids enjoy meeting a horse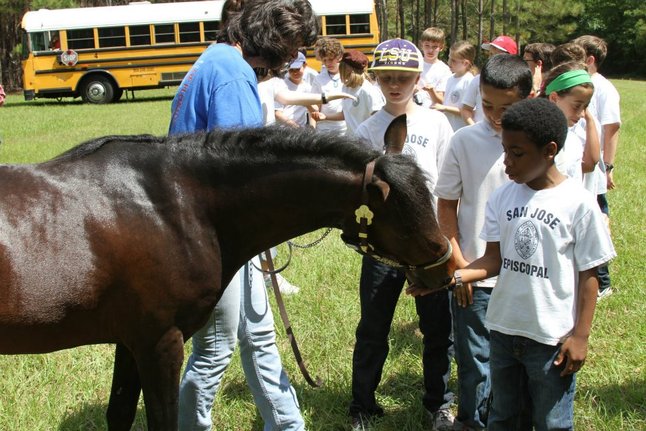 Some kids, like almost all of these from Jacksonville, Florida, live in the city and do not get a chance to get up close and personal with animals. Because of their small size, the Galicenos are not intimidating, and their gentle nature is very important for the safety of everyone.

---
Monty visits Surrey Place, a Health Care facility in Live Oak, Florida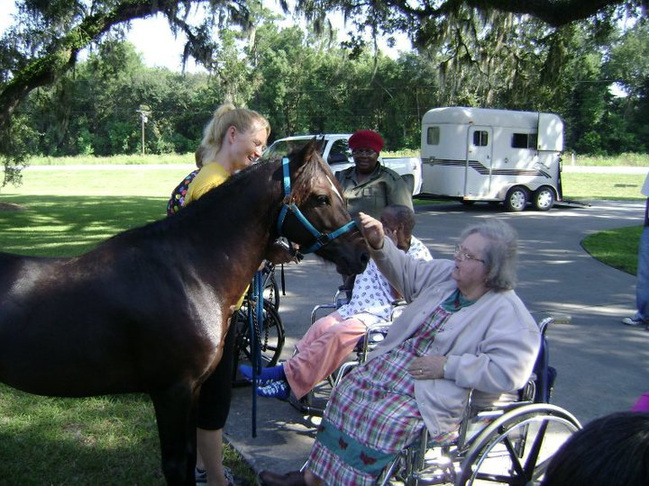 Monty is so gentle and loving of attention that we can take him to see folks at such places as this Health Care facility. There was one energetic young lady of 105 years old who wanted to ride, but the care givers there said no. Maybe next time we can harness him up to a cart and take them on rides?
Maybe, if we can get more volunteers?
---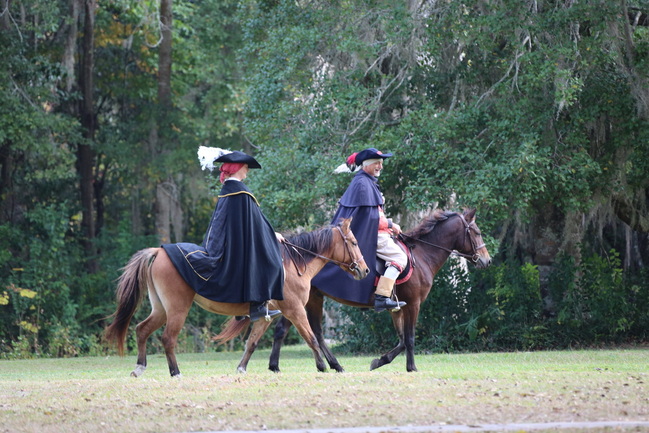 Two of our Galiceños, Suwannee Love and Suwannee Smoke, were at Mission San Luis in Tallahassee, Florida, as part of a video shoot to promote the Mission. Costumes are based on what the Spanish soldiers wore in 1703 at the Mission. Our riders were Heidi Reinhardt and Tony Castro. (11/16/2014)


---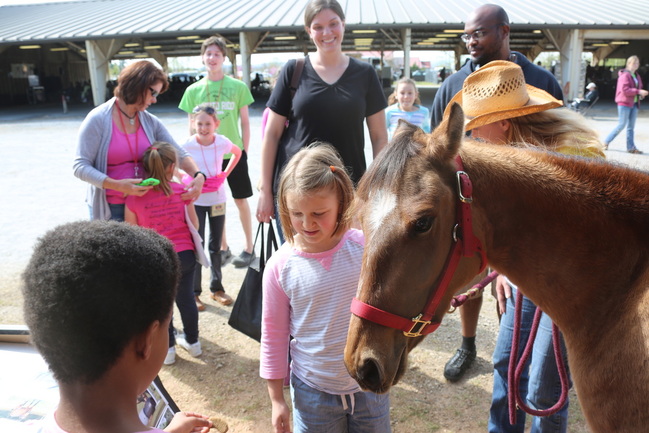 In our mission to promote the Galiceño breed and to educate, we travel to various breed shows and fairs. This is at a Mother Earth News Fair in Asheville, North Carolina. Suwannee Love is surrounded by delighted children and adults and adores the attention.

---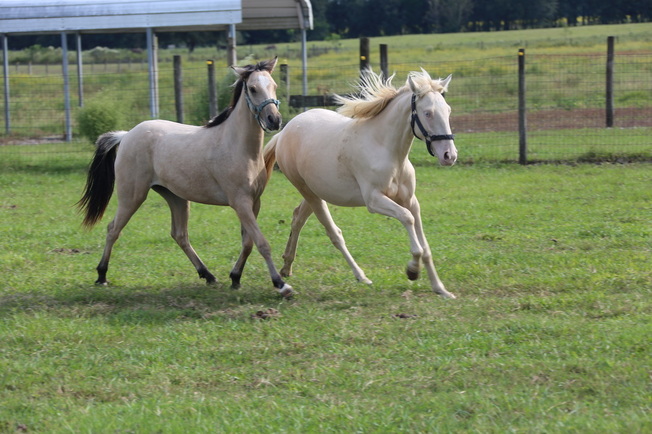 We had just brought these two yearling fillies to the ranch from our good friends, Steve and Kay Hardcastle, in Texas. When they came out of the trailer and saw the grass, they were wide eyed with glee. As soon as they went into the pasture, they ran and kicked up their heels.

We named the Buckskin on the left Tequila (Tiki) and the Cremello, with beautiful blue eyes, we named Cristal Azul (Crystal).


---